When it comes to visiting Ha Long Bay, a must-visit site for anyone travelling Vietnam, there are almost definitely too many options to choose from. One is to make the trip to Ha Long Town yourself and find a tour or private boat there willing to take you or, like most, arrange a trip from either a hostel or travel service in Hanoi.
Chances are if you're part of the younger generation of backpackers you're looking for more than just a good spot of sight seeing. If you are looking for a something more lively you should consider the Hanoi Backpackers Rock Long, Rock Hard, Ha Long Bay Tour.
As the name suggests the tour is arranged through the backpackers hostel in Hanoi and if you've stayed there for more than 30 minutes you'll know exactly what it's all about, having a damn good time.
At $120 per person this option is not cheap but you get what you pay for and you under no illusions what that is (a common problem with Ha Long Bay Tours). A three day, two night tour with everything but drinks included.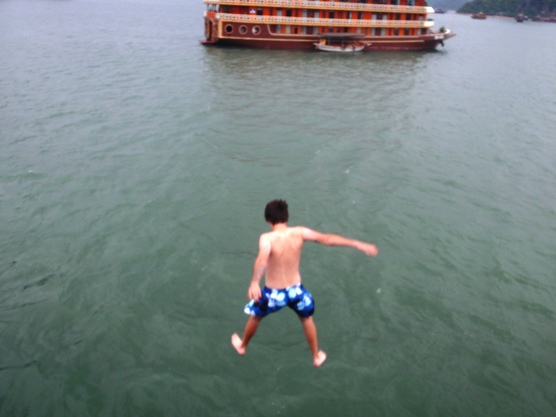 Day 1 starts with transport from Hanoi to Ha Long Bay. After arrival the boat sets off and you're immediately treated to a good-sized quality lunch before the boat anchors down and the brave among you can leap from the top of the boat for a swim. Whilst you're splashing about, kayaks are being prepared for you to head over to a small island where a short hike gives you great views of the limestone cliffs you (may) have come to see. Back in the kayaks it's onto a small cave for a quick look before heading back to the boat.
After some time to freshen up, its time for some more food before the real action begins. Your host for the trip will lead a number of drinking games and in many cases the boat turns into more of a nightclub with your own iPod providing the perfect music.
The parties can get pretty rowdy and go all night. The lucky staff selling drinks will keep the bar open until the last of you has stumbled into bed sometime during the early hours.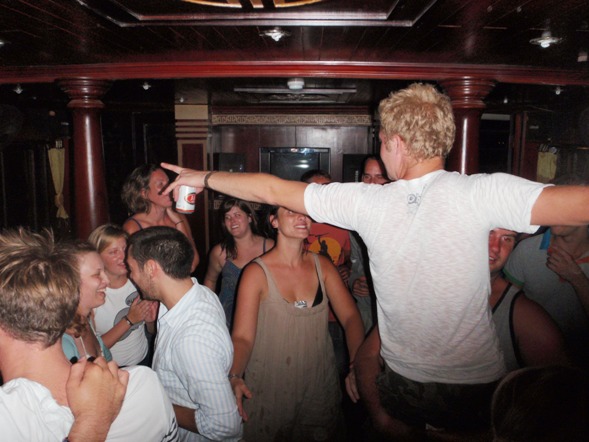 Unfortunately after a heavy night the next day starts early with a 7am breakfast and many tired faces. A smaller boat transports you to 'Castaway Island' where you will enjoy the rest of the day and second night of the tour. A private beach complete with wooden shelters for bedrooms, a bar, table tennis, volleyball makes for an amazing day in the stunning surroundings with your new friends. Even if you do use some of the time to sleep off the night before….
A BBQ lunch is provided before heading off for an activity of your choice; at last look either wake boarding, banana boating or rock climbing. As each group goes off you're left to enjoy your surroundings and by the time everyone has had their turn the day has passed.
The evening begins with another good BBQ meal before guess what, another round of drinking games for all to enjoy. Much like the night before your host will get the action underway before the night heads in whatever direction you take it and with a private beach, that means pretty much anything goes.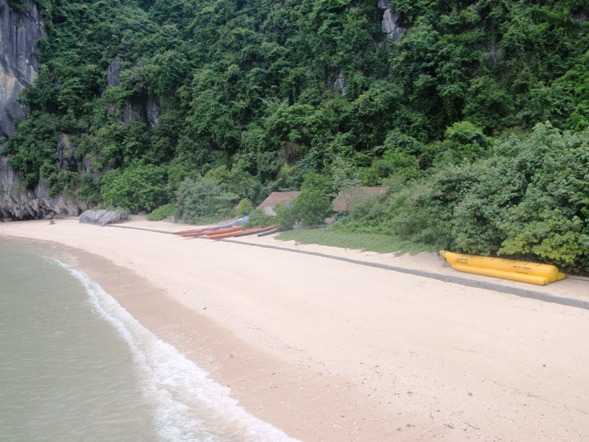 Day 3 starts early again with transport back to the main boat. It's just a case of a final meal on the boat before a long tired journey back to Hanoi.
It's clear this tour is not for families or those of you looking to spend time seeing Ha Long Bay in detail but if you want to have the best of both worlds with magnificent scenery and one hell of a party this is as good as it gets.
CC Thanks to David Mckelvey for the title picture.